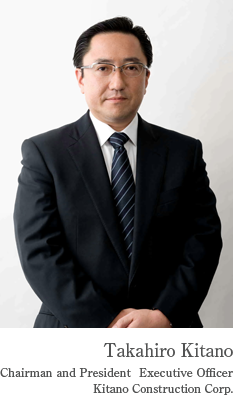 Founded in 1946 in Nagano, Japan, we, KITANO CONSTRUCTION CORP., carrying our management philosophy that we "put the top priority on seeking customers' trust, maintain craftsmanship to provide high quality and more value, and meet the expectations of the society for the mutual development", have always been trying to provide works with craftsmanship to meet the trust given to us since our foundation. We, however, always bear in mind that our steady development so far could have never been realized without the support of the Clients and all the parties cooperated with us.
Right after the foundation in Nagano, we started business in Tokyo as well and we have two headquarters now, one in Nagano and the other in Tokyo. While stabilizing our management, we dared to go abroad for business early in the 70's, and our footprints can be seen in more than 40 countries over the world now.
As one of our management policies states, we have been "Community-oriented". Setting a high value on craftsmanship, we have been trying to maintain our scale of business to the extent suitable for us to provide good quality and service to our clients. Considering ourselves as collective technical experts, enforced by sustained and stable human resource development, we have committed to realize what the clients wish or demand.
While we plan, propose, design, construct and care, we practice our policy, "Accurate, Fast, Worth the Cost", thus to provide comfortable, safe living environment for everyone, so that we meet our social responsibility as a company.
We sincerely wish to be of service to you and to see that you are pleased and satisfied with it.